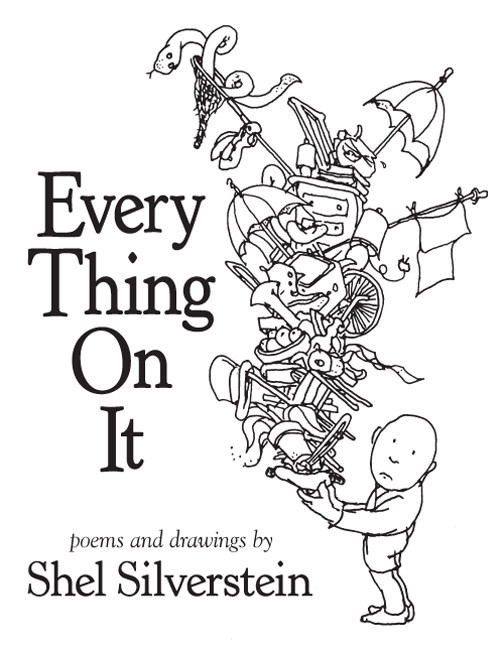 I asked for a hot dog
With everything on it,
And that was my big mistake,
'Cause it came with a parrot,
A bee in a bonnet,
A wristwatch, a wrench, and a rake.
It came with a goldfish,
A flag, and a fiddle,
A frog, and a front porch swing
And a mouse in a mask–
that's the last time I ask
For a hot dog with everything.


Some of my earliest literary memories involve the cheeky prose of Shel Silverstein. When I was 8 I was determined to go through Where the Sidewalk Ends page by page and memorize every damn line. So I did. And now? Ickle Me, Pickle Me, Tickle Me Too bubbles to the surface and spews forth like it's just another breath from my body. I can still rattle off the tale of little Melinda Mae who - bless her - ate that monsterous whale, she thought she could, she said she would so she started in right at the tail and OMG, Sister For Sale sill haunts me to this day. These things I remember.
As I grew up I continued to collect and devour it all - minus the Playboy articles. I even wrote a paper in college on The Missing Piece Meets the Big O. Hi, I was a Psych major and I'm sure it was brilliant. And now, 12 years after his passing, Shel Silverstein graces us from beyond the grave and fills our senses once more with Every Thing On it. And we're 8 again. Reading aloud.